DIABETES CARE
A light meal of chilli mushroom for a mighty boost to help you stay ahead of diabetes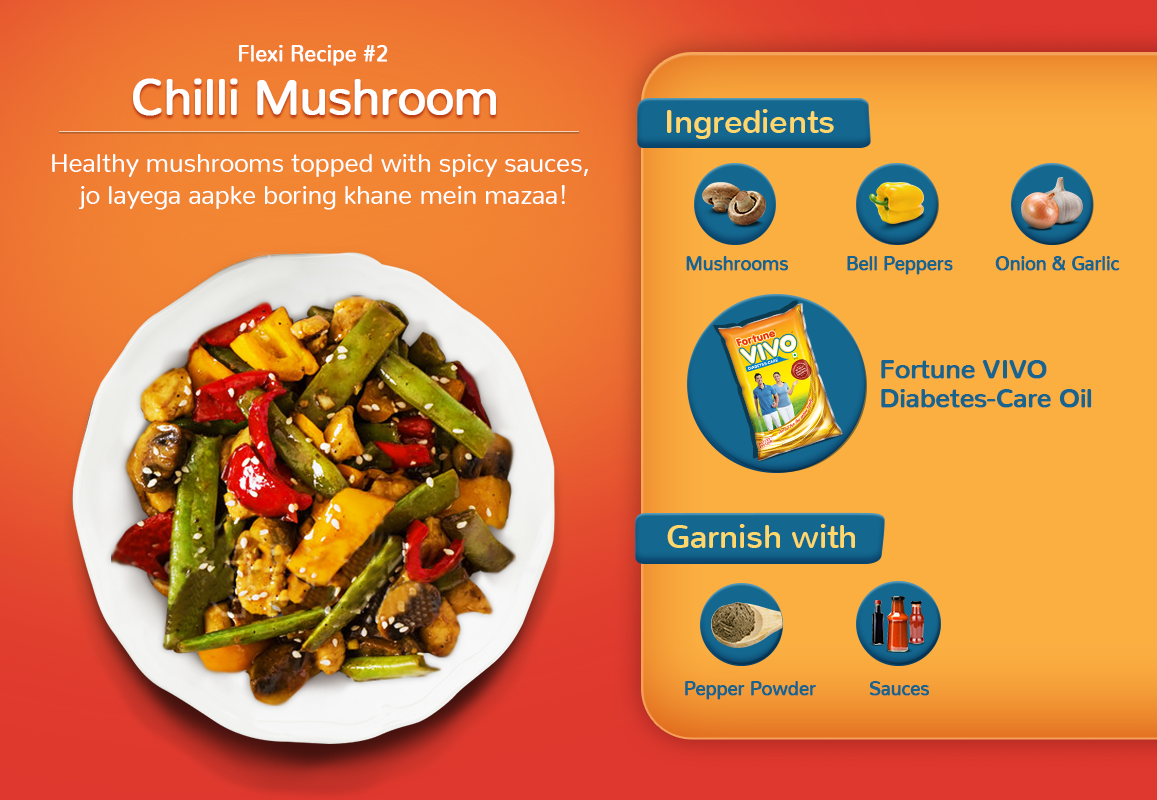 For a light dinner, or just a healthy snack between meals, Fortune VIVO Buddy's nourishing and flavourful recipe will take care of your diabetic needs. Isse healthy aur tasty recipe kahi nahi milegi!
Mushrooms are high in protein & fibre and low on carbs & fats, making them ideal for diabetics. They are also rich in potassium which keeps your blood pressure in check. Yaad aya aapke Dietician ne bhi yehi kaha tha?
This quick and healthy fix is packed with oodles of deliciousness… and guess what? You don't have to be a pro to cook this recipe!
Let's start with the mushrooms first. Grab half a cup of rinsed button mushrooms and cut them into quarters. Next, heat a pan with Fortune VIVO Diabetes-Care Oil and sauté 3 minced garlic cloves on high flame. Be careful, don't burn the garlic!
Toss in the mushrooms and let them cook for 2 mins, making sure they do not turn soggy. Finally, add the veggies, and season your dish with soy sauce, chilli sauce and tomato ketchup.
Hungry already? You don't have to wait too long… your delightful dish is ready. Dig in, bindass!
VIVO Buddy Tip: Not a mushroom fan? Use low-fat paneer or fibre-rich veggies like bell peppers, broccoli etc. As long as you don't use too much oil, befikar ho jao aur chilli-style mushroom kabhi bhi khao!